Khloé Kardashian is grateful to the medical team who helped her remove skin cancer from her face.
"For those who do not know I had a skin cancer scare on my face," Kardashian wrote on one of her Instagram Stories on Sept. 19. "My angel @garthmd is who I trusted with removing the tumor. Dr. Fischer is out of this world Fabulous!"
"Not only did he remove the tumor and made sure that I am completely cancer free but he did such a f—ing stellar job on making my scar as small and beautiful as possible," she continued. "Thank you so much, Garth! You know I adore you."
On her Instagram Stories, Kardashian shared a picture of the "small spec of melanoma" that she got removed. "Yes that tiny dot that I thought was a pimple for almost a year," she wrote.
After getting the surgery, Kardashian shared a snap of herself wearing a bandage on her face, writing, "I know this looks crazy and pretty massive, which it was, but for all good reason. @garthmd made sure to protect the stitches and make sure everything was as flat as possible so there was no stretching of the scar, incision area, and we tried to avoid keloiding (thick, raised scar tissue) as much as possible. He's just the best."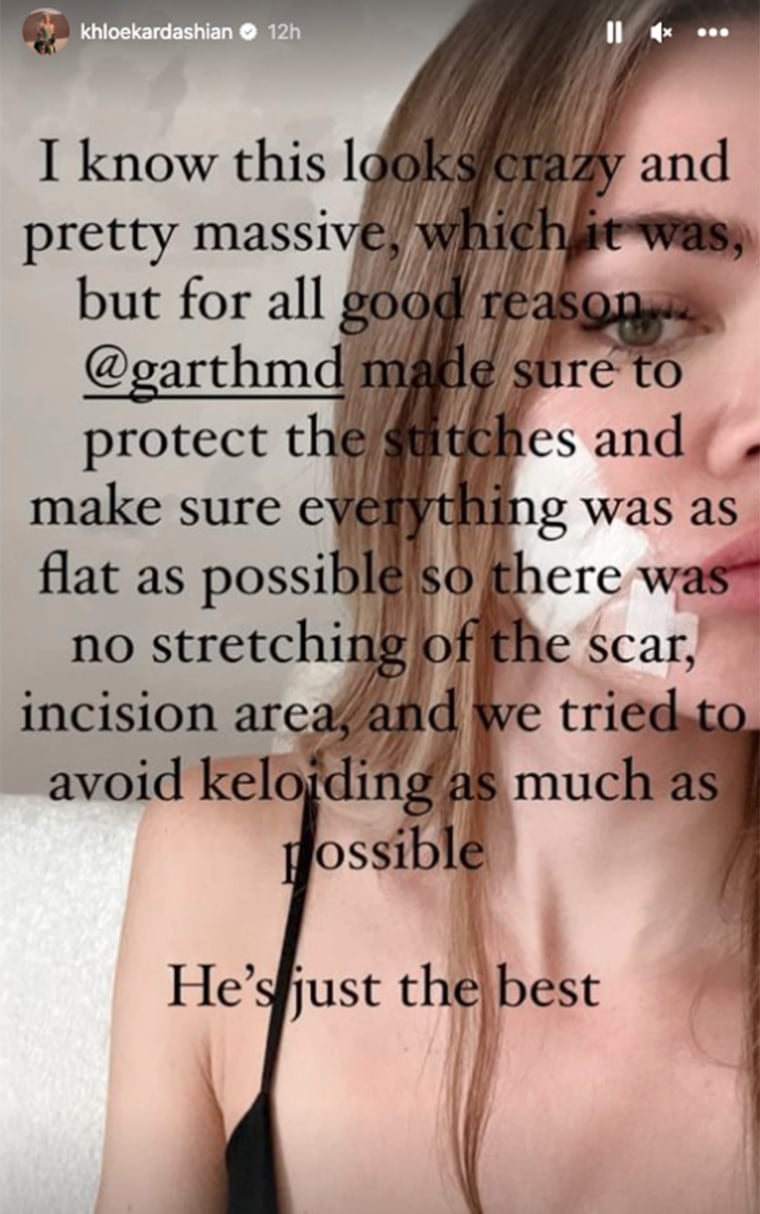 Once the wound healed, Kardashian noted that she waited "over nine months" to get her cheek filled so it could look the way it used to. She shared a picture of a "huge indention" she had on the side of her face where the tumor used to be.
"I am definitely not complaining because I would rather have an indention than melanoma any day," she said.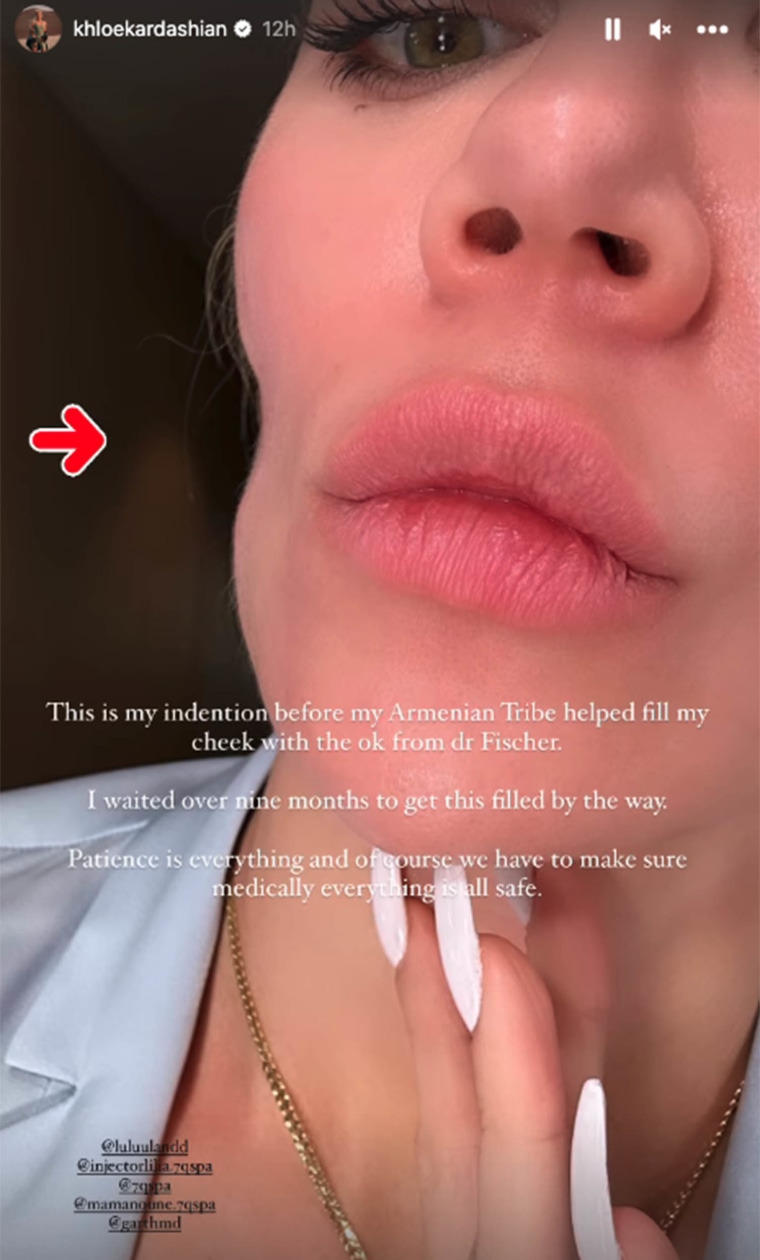 Once she got the fillers, Kardashian shared some before-and-after snaps of her face to show her fans how much the injections worked.
She wrote, "I look insane in these pics but I'm just so happy that my face is slowly coming back together ha! I don't even know how else to word this."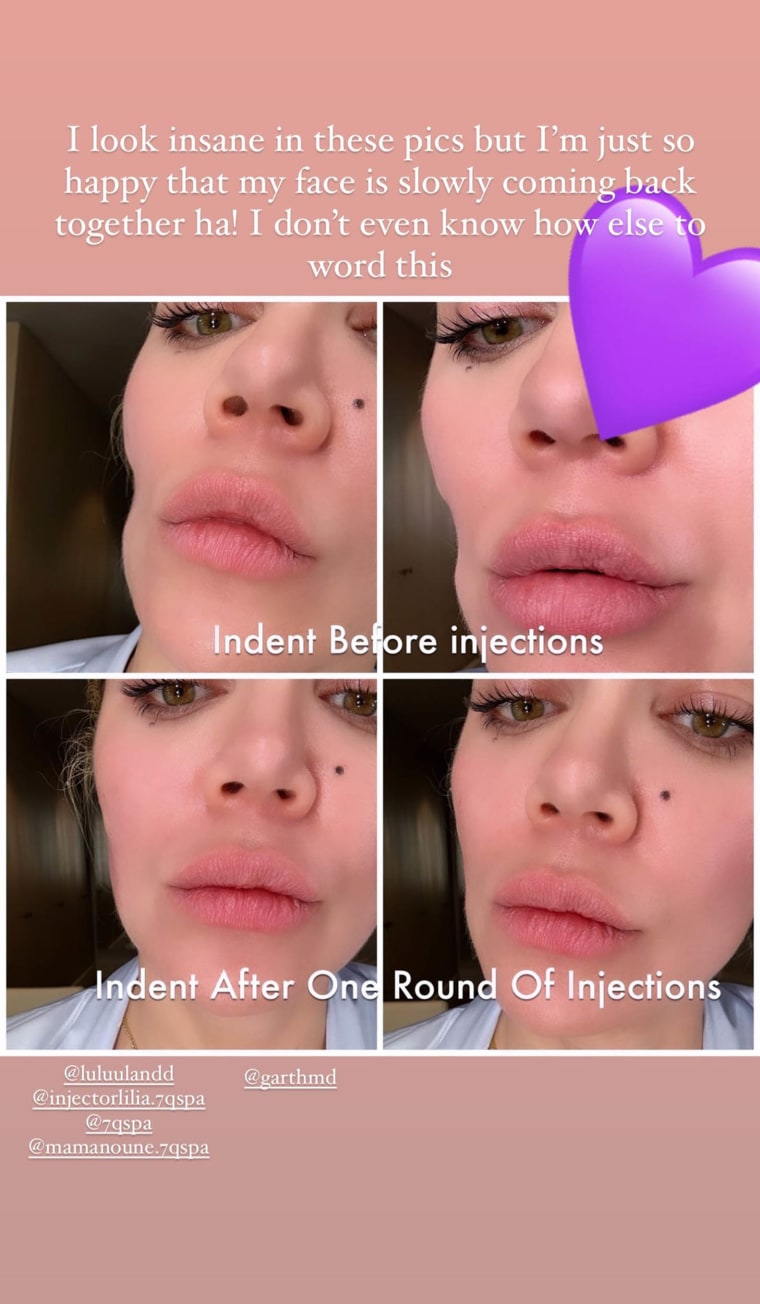 The Good American co-founder ended the series of posts by urging her followers to get their skin checked out.
"I never imagined that this tiny spec would turn into skin cancer and I can't fathom what could have possibly happened had I not gone to the doctor to get it looked at," she wrote in another Instagram Story. "Paying attention to our skin and any changes in our skin and our body, no matter how small, is so important."